MPTF Campaign
Our heartfelt thanks to our MPTF Campaign supporters who are helping to secure our financial future.
We are profoundly grateful for your confidence in our future and for joining us in achieving our 2017 priorities. We honor those donors who included us in their philanthropic priorities last year in this portion of our website.
MPTF Campaign Supporters
Chairman's Circle

Stephen Bing
Barry Diller
Kirk and Anne Douglas & the Douglas Foundation
FOX Entertainment Group
David Geffen
The Samuel Goldwyn Foundation
Marilyn and Jeffrey Katzenberg
NBCUniversal Foundation
Jerrold Perenchio Estate
Sumner M. Redstone Charitable Foundation
Chan Soon Shiong Family Foundation
Kate Capshaw and Steven Spielberg
The Steve Tisch Family Foundation
Wasserman Foundation
Leadership Gifts

Herbert A. Allen, Sr.
James L. Brooks
George Clooney
Mark Burnett and Roma Downey
James & Deborah Burrows Foundation
Directors Guild Foundation
Dreamworks Animation Charitable Foundation
Jodie Foster
Gianopulos Family Foundation
Mark R. Gordon
The Horn Foundation
Kathleen Kennedy and Frank Marshall
Michael V. Lewis
LIONSGATE
The Katie McGrath and J.J. Abrams Family Foundation
Sue Mengers Estate
Metro-Goldwyn-Mayer Studios
The Milchan Family
Mary Parent
Todd Phillips
Joe and Irene Roth
Ryan Seacrest
Mark Segal
The Jane & Terry Semel Charitable Foundation
Time Warner, Inc
Alba and Thomas Tull
The John & Marilyn Wells Family Foundation
The Winkler Family Foundation
$1 Million Business Manager Campaign

Mickey Segal, Chair
Altman Greenfield & Selvaggi
Bash Gesas & Company
Breslauer Rutman & Anderson LLC
Capell Rudolph Business Management
City National Bank, an RBC Company
Dunn, Pariser & Peyrot
First Republic Bank
Flekman Baren & Co.
Freedman Broder & Co.
Gelfand Rennert & Feldman, LLP
Gettleson, Witzer & O'Connor
Goldman & Knell
Grant Tani Barash & Altman LLC
Holthouse Carlin & Van Trigt LLP
Kaufman Bernstein Lee & Robert, Inc.
Kessler Schneider & Co.
Level Four Business Management
Meschures Thompson Snyder Pocras & Levin LLP
Miller Kaplan Arase LLP
Momentous Insurance Brokerage, Inc.
Murphy & Kress, Inc.
NKSFB, LLC
OneWest Bank
OTP Business Management, Inc.
The Otting Family Charitable Foundation
Perry, Neidorf & Grassl, LLP
Philpott Bills Stoll & Meeks LLP
Power Twersky DerParseghian, LLP
The Private Bank of California
Savitsky, Satin & Bacon
Mickey Segal
SingerLewak LLP
Sobul Primes & Schenkel
Country House Fund Donors

The Tim Allen Foundation
The Apatow-Mann Family Foundation, Inc.
Bonnie R. Arnold
Katie Locke Aviv and Oren R. Aviv
Bob and Carol Beitcher
Bruce Berman
Armyan B. Bernstein
Peggy and Jeff Bewkes
Steven and Dayna Bochco
Claudia and Kevin Bright
Johnny Carson Foundation
Joseph Climan
Sandy Climan
Courteney Cox
Ann Daly and John M. Gustafson
Carole and Bob Daly
Ted Danson and Mary Steenburgen
John A. Davis
Trish and Jan De Bont
Michael De Luca
Lauren Schuler Donner and Richard Donner
Ariel Emanuel
Roger Enrico Estate
Harrison Ford and Calista Flockhart
A. Sandy Gallin
Sid Ganis and Nancy Hult Ganis
Akiva and Joann Goldsman
Jessica and Adam Goodman
Diedre and Lawrence Gordon
Seth Grahame-Smith
Brian Grazer
Thomas M. Hansen
Bruce Hendricks
Jeffrey A. Hirsch
Cindy and Alan Horn and The Horn Foundation
Iger Bay Foundation
Jimmy Iovine and
Interscope Geffen A & M Records
Thomas F. Kranz
The Seth MacFarlane Foundation
Gary and Susan Martin
Roger L. Mayer Estate
Kevin T. McCormick and A. Scott Berg
The Katie McGrath and J.J. Abrams Family Foundation
Barry & Wendy Meyer Foundation
Kelly and Ron Meyer
Eddie Murphy
Diane and Peter Nelson
Rick Nicita and Paula Wagner
Nu Image, Inc.
Walter Parkes & Laurie MacDonald Charitable Foundation
Charles S. Paul
Skip Paul and Van Fletcher
Carolyn and Bob Pisano
Julie and Mark Platt
John A. Ptak and Margaret Black
Brett Ratner
Kay and Bob Rehme
The Reitman Foundation
Genevieve and Ivan Reitman
The Rosenthal Family Foundation
Rich Ross
Donna Arkoff Roth
Jay D. Roth and Sherry Grant
Charles Roven and Stephanie Haymes Roven
Ridley Scott
Martin B. Shafer and Carol D. Fuchs
Jeffrey Shell
Stacey Snider and Gary Jones
Fred Specktor and Nancy Heller
Scott Stuber and Molly Sims
Matthew Weiner
Paul and Christopher Weitz
White Horse Pictures & Nigel Sinclair
Robin M. Williams Estate
Other Contributions
Nancy K. Biederman Estate
Dean and Kathrine Cannon Butler
Susan and Robert Downey, Jr.
Entertainment Partners
First Entertainment Credit Union
Greg and Marci Foster
Saving the Lives of Our Own
Melody M. Sherwood
Jeanne S. and Herbert J. Siegel Philanthropic Fund
Sandra Stoller
*We acknowledge with gratitude donors who wish to remain anonymous.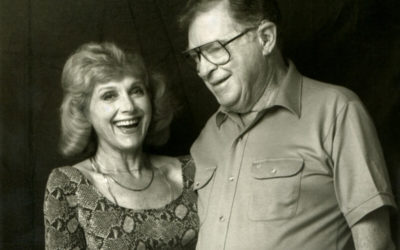 Lillian Michelson has helped guide some of the brightest filmmakers through her work as a hollywood archivist and librarian. She's a certifiable behind-the-scenes legend and calls MPTF home. Watch Lillian's story, performed by Alessandro Nivola (Face/Off, American...
read more