The Samuel Goldwyn Children's Center embraces the busy work schedules of entertainment industry professionals and serves as a reminder of the long legacy of Goldwyns supporting MPTF and its mission.
Watch the children's center story, performed by Samuel Goldwyn's grandson, Tony Goldwyn (Scandal, Ghost) and written and directed by Jason Hall (American Sniper, Paranoia), below. You can also read the full text from the script below the video.
I'm especially happy to be here tonight because I have proudly come with my daughter Anna, who is a budding screenwriter completing her degree at USC and working in the Warner Brothers Internship writing program. That means she is part of the fourth generation of Goldwyns to work in the motion picture industry. And she is symbolic of what this night is all about—informing the next generation of Hollywood about MPTF.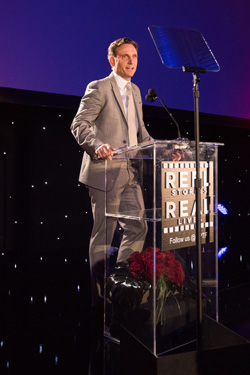 As many of you already know, my father, Sam Goldwyn, Jr., was born into our business, and he developed, at an early age, an iron-clad sense of duty of giving back to those fellow workers who need help in some way. As his parents did for him–he instilled in his children that same sense of commitment and compassion for those in need. That made him especially devoted to MPTF.
In that spirit, my father saw a growing need in 1991, and he acted on it. He began to realize that the working families in our business often had challenges with child care–particularly with the instability of income and the need for longer hours to accommodate production work. My sincere thanks to Jason Hall for writing and directing the wonderful piece you are about to see, which captures how the Samuel Goldwyn Foundation Children's Center continues to address those needs.
Before that, allow me to share with you one personal moment about my Dad, who passed away at the age of 88 early this year.
The last public appearance he made was a few months earlier when we gathered at the MPTF campus to dedicate the new Behavioral Health Center that his philanthropy has also made possible. He was in failing health, and none of us in the family thought he was strong enough to go to Woodland Hills for the ceremony.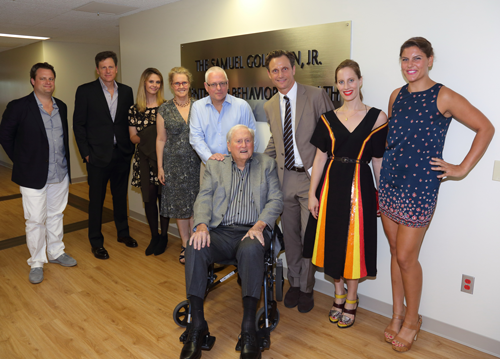 But, knowing his commitment to this industry and to MPTF, we weren't at all surprised that he gathered the strength to go. Both in public and in private, he never stopped lecturing us on the things that truly mattered to him–movies and the well-being of the people who make them. And in his remarks that night, following a wonderful introduction by Jeffrey Katzenberg, Sam reminded all of us that we have an obligation to give back.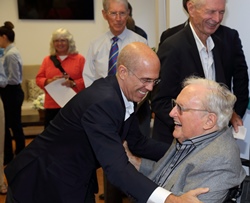 It was a moving moment my family will never forget. And now Jason's film is a living tribute to Sam Goldwyn, Jr.'s vision and generosity…and to an industry that really does care for its own. It is my honor to introduce Jason Hall's look at the Samuel Goldwyn Foundation's Children Center of MPTF. I hope you enjoy "A Day In the Life."
Back to Reel Stories, Real Lives