Your Gift In Action
For over 95 years, MPTF donors have known that any amount they donate to the organization would immediately be put to work helping fellow members of our entertainment industry community. The legacy of taking care of our own remains true today as your support allows MPTF to serve more than two hundred on our campus and thousands in our community in a myriad of ways.
Click on the name of the services to learn even more about the impact your gift is making in that area.
SOCIAL SERVICES: For Adults, Industry Members & Family
Assessments

 

– Phone, Office, Home Crisis Intervention
Counseling

 

– Health Issues, Stress, anxiety, depression, Job Loss, Life Crises, Relocation Need, Family Issues, Substance Abuse, Support Groups
Emergency Assistance

 

– Housing, Food, Utilities
Support Physician Practice

 

– Consultation re: Risk, community care needs, New challenging patient diagnoses, Possible abuse, neglect, Substance Abuse, Depression Screening
Center for Behavioral Health Social Services
Community Care Team
ELDER CONNECTION: Helped 1,319 Seniors
Assessments

 

– Phone, Office, Home Crisis Intervention
Supportive Counseling
Caregiver Support

 

– Specialized Info & Referral, Counseling
Financial Assistance– Home Care Assistance, Emergency Assistance with rent, utilities, food, transportation, other
Community Resource Referral

 

– Housing Alternatives, Home Care Services, Meal Delivery Services, Personal Response, Systems Support Groups, Legal Resources, Transportation Services, Relocation Services, Guardian Resources
FINANCIAL ASSISTANCE: Provided $2,800,000 in Support
Temporary Assistance

 

– Rent or Mortgage, Utilities, Transportation, Expenses, Food, Home Care, Other
Health Insurance Premium Support (HIPS) & Referrals
Community Resource Referrals
Counseling

 

for stress, anxiety health & family issues
Life Skills

 

– Money Management, Occupational options
Veteran Benefits

 

– 625 veterans/spouses screened for current or future benefits, $87,423 in retroactive benefits received, $16,786 in ongoing monthly benefits secured
PALLIATIVE CARE: Cared for 227 Patients and Families
Interdisciplinary team

 

helps client manage social, emotional, spiritual symptoms associated with their medical condition
Assessments

 

– For depression, anxiety and other issues related to diagnoses, For financial need and facilitate assistance through MPTF and other resources
Supportive Counseling

 

– Coordinate with other MPTF services including Home Safety, Assist in coordination of medical care with various medical specialists in the community
Community Resource

 

– Provide linkage to resources such as caregiving, placements, home health, hospice, support groups, therapists, durable medical eqpt, legal, transportation, food delivery programs
Caregiver Support

 

– Provide education, support and referrals to caregivers, Provide bereavement support to family members and friends
HOME SAFETY: Kept 319 Seniors Safe
Home Safe Home

 

– 189 Skilled Assessments, Written Recommendations, Follow-up & planning
Home Safety Projects

 

– Installed in 2014: 102 grab bars, 13 ramps, 23 smoke detectors, 21 safety seats, toilet/shower
RUSH: Are you safe at home

 

– pre-hospital discharge assessment, referrals
PIC: Paid Installer Coordination
Durable Medical Equipment Procurement

 

– referrals; low cost sources
Tenant Advocacy for Safety
VOLUNTEERS: 399 Volunteers donated 41,961 Service Hours
Friendly Visitors
Phone Buddies
Grocery Shopping
Pet Food Program
Computer Tutors
Tech Squad
Administrative Support
Palliative Care Volunteers
Campus Volunteers –

 

Assist various departments, help with events
Saban Center for Health and Wellness

 

– Pool Buddies, Fitness Buddies
Volunteers in Greater Community
COMMUNITY PROGRAMS: Offered 143 Classes & Events
Senior Transportation

 

– Linkages, referrals
CarFit
Lifelong Learning

 

– Various locations, by phone or web-based Computer Classes, Entertainment
Wellness programs

 

– Caregiver, Memory, Healthier Living, Diabetes, Fall Prevention
Community Engagement

 

– Community Councils: Burbank, Greater LA, West LA, Community Conversations, Speaker/Panel events, Agency collaborations that include reduced fees, preferred enrollment
Thanks to Our Supporters
These two simple words are insufficient to express how much our MPTF supporters mean to the entertainment community we support but they do capture our sentiment. Supporters are led by our MPTF Campaign donors, Circle of Friends,and Annual Donors.
Your continued support ensures your place on these lists in the year ahead.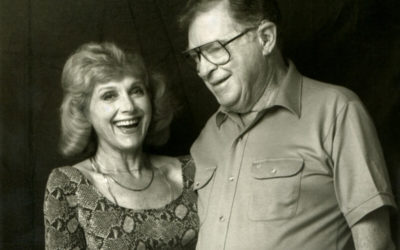 Lillian Michelson has helped guide some of the brightest filmmakers through her work as a hollywood archivist and librarian. She's a certifiable behind-the-scenes legend and calls MPTF home. Watch Lillian's story, performed by Alessandro Nivola (Face/Off, American...
read more