Privacy Policy and Terms of Use
Motion Picture & Television Fund Web Site Terms of Use
The Motion Picture & Television Fund web site, including, without limitation, subdomains hereto, and the logos, designs, text, images, videos, graphics, software and other content and materials of the Motion Picture & Television Fund and its licensors available through the web site, and the selection and arrangement thereof (collectively, the "Web Site"), is provided by Motion Picture & Television Fund and its affiliates (collectively, "MPTF"). Your use of the Web Site constitutes acceptance of the following terms. As used in these Terms of Use, the term "Web Site" shall also refer to the subdomains herein. MPTF reserves the right, in its sole discretion, to modify and update these Terms of Use from time to time. MPTF may change these Terms of Use by posting a new version at the Web Site, without notice to you, so please continue to review these Terms of Use from time to time. The most recent modification date will be noted by the "Last Updated" date above. To the fullest extent permitted under applicable law, your continued use of the Web Site after any such modification constitutes your acceptance of these Terms of Use as modified. If you use certain features available on the Web Site, such as certain User Content Features, as defined below, additional terms and conditions and disclaimers may apply.
General Provisions
MPTF controls and operates this site from Woodland Hills, California, United States of America and the information on this Web Site is presented solely for purposes of promoting MPTF's available programs and services in Southern California, and MPTF makes no representation that all of these programs, services, information and materials are appropriate or available in other locations. These Terms of Use shall be governed by, construed and enforced in accordance with the laws of the State of California, United States of America, as it is applied to agreements entered into and to be performed entirely within such State, and without regard to its conflicts of law provisions. Any and all disputes, claims and causes of action arising out of, or connected with these Terms of Use or the Web Site shall be resolved exclusively within the federal and state courts residing within Los Angeles County, State of California, and you waive any jurisdictional venue or inconvenient forum objections to such courts. MPTF will not be liable in any amount for failure to perform any obligation under these Terms of Use if such failure is caused by the occurrence of any unforeseen contingency beyond its reasonable control, including, without limitation, Internet outages, communications outages, fire, flood or war. You agree to indemnify, defend and hold harmless the MPTF and its officers, directors, members, employees and agents (collectively, "MPTF Parties") from any loss, liability, claim, or demand, including costs and reasonable attorneys' fees, made by any third party due to, in connection with or arising out of your use of the Web Site or arising from your breach of these Terms of Use, including any representation or warranty set forth herein, your violation of applicable laws, or your violation of any rights of another person or entity. The Terms of Use constitute the entire agreement between MPTF and you with respect to your use of the Web Site. If any provision of these Terms of Use shall be deemed unlawful, void or for any reason unenforceable by a court of competent jurisdiction, then that provision shall be deemed severable from these Terms of Use and shall not affect the validity and enforceability of any remaining provisions.
Changes at the Web Site
MPTF may, in its sole discretion, terminate, change, modify, suspend, make improvements to or discontinue any or all aspects of the Web Site, temporarily or permanently, including the availability of any features of the Web Site or access to any parts of the Web Site, at any time with or without notice to you. You agree that MPTF shall not be liable to you or to any third party for any modification, suspension or discontinuance of the Web Site.
Trademarks
The trade names, trademarks, logos and service marks (collectively the "Trademarks") displayed on this Web Site are registered and unregistered trademarks of MPTF, its affiliates and others. Nothing contained on the Web Site may be construed as granting, by implication, estoppel, or otherwise, any license or right to use any Trademark displayed on this Web Site without the written permission of MPTF or such third party that may own the Trademark displayed on the Web Site. Your misuse of the Trademarks displayed on the Web Site, or any other content on the Web Site, except as provided herein, is strictly prohibited.
MPTF's registered trademarks include, without limitation, the following:
Motion Picture and Television Fund®
The Industry Advantage Health Plans®
The Industry Health Network
The Industry Advantage Health System
Before & After Productions
We Take Care of Our Own®
Your Best Supporting Role
The Film Strip Graphic Design®
The Night Before®
The Evening Before
A Fine Romance®
Heartbeat of Hollywood Robby Rabbit
Golden Boot®
Other registered trademarks displayed and used by MPTF with permission include:
Blue Cross of California™ is an independent licensee of Blue Cross Association
Blue Cross Senior Secure™ is a service mark of Blue Cross Association
CaliforniaCare® is a registered trademark of WellPoint Health Networks, Inc.
Emmy® is a registered trademark of Academy of Television Arts & Sciences
Oscar® is a registered trademark of Academy of Motion Picture Arts & Sciences
Copyrights
You should assume that everything you see or read on the Web Site is copyrighted unless otherwise noted and, without the written permission of MPTF, may not be used except as provided in these Terms of Use or in the text on the Web Site. MPTF neither warrants nor represents that your use of materials displayed on the Web Site will not infringe rights of third parties not owned by or affiliated with MPTF. Images, photographs, or illustrations displayed on the Web Site are either the property of, or used with permission by, MPTF. The use of these materials by you, or anyone else authorized by you, is prohibited unless specifically permitted by these Terms of Use or specific permission provided elsewhere on the Web Site. Any unauthorized use of the images may violate copyright laws, trademark laws, the laws of privacy and publicity, and communications regulations and statutes.
Use of Materials on this Web Site
MPTF maintains this Web Site for your personal information, education, and communication. Please feel free to browse the Web Site, however, without MPTF's prior written permission, you may not alter, reproduce, display, upload, download, re-distribute, transmit, create derivative works based on, or otherwise use the content of this site, except that you may download one copy of the material available on the Web Site on one computer for your personal, non-commercial home use only, without deleting or altering any copyright, trademark, or other proprietary notices.
Code of Conduct
In using or accessing the Web Site, you agree, without limitation, to adhere to the following code of conduct ("Code of Conduct") as the same may be revised from time to time by MPTF.
Not to use the Web Site in breach of these Terms of Use
Not to use the Web Site for commercial purposes
Not to "spam" others or "phish" for others' personal information
Not to disrupt or interfere with the security of, or otherwise abuse, the Web Site, or any part of the Web Site
Not to disrupt or interfere with any other user's enjoyment of the Web Site
Not to upload, post or otherwise transmit through or on the Web Site any viruses or other harmful, disruptive or destructive files
Not to use, frame or utilize framing techniques to enclose any part of the Web Site without MPTF's express prior written consent
Not to "deeplink" to the Web Site without MPTF's express prior written consent
Not to create or use a false identity on the Web Site
Not to collect or store personal data about others
Not to attempt to obtain unauthorized access to the Web Site or portions of the Web Site that are restricted from general access
Not to post at or transmit through the Web Site any material that is false and/or defamatory, inaccurate, abusive, vulgar, hateful, harassing, obscene, profane, sexually oriented, threatening, invasive of a person's privacy, violates any third party proprietary rights, or is in violation of any law or regulation
Not to post any copyrighted (or other proprietary) material unless the copyright (or other proprietary right) is owned by you or you have the right to do so
To otherwise use the Web Site in compliance with all applicable laws, rules and regulations
You agree to immediately notify us if you suspect illegal, fraudulent or abusive activity, or any activity in violation of these Terms of Use. If you so notify us, or we otherwise suspect such activity, you agree to cooperate with us in any investigation and to use any prevention measures we prescribe.
In the event MPTF determines or reasonably suspects that there is unlawful activity, harmful activity or activity otherwise in breach of the code of conduct occurring in connection with the web site, MPTF, MPTF's business or web site users, as determined by MPTF in its sole discretion, MPTF reserves the right to take all actions and remedies available to it to protect the web site, MPTF, MPTF's business and web site users, including, without limitation, filing complaints with local law enforcement agencies and restricting access to the web site.
User Content and User Content Features
The Web Site may offer opportunities for users to submit and post their own user content (collectively, "User Content") in connection with various Web Site features, which may include, posting to blogs, communicating with other Web Site users, and posting comments to a public discussion forum (each, a "User Content Feature"). The selection of available User Content Features may change from time to time in MPTF's sole discretion.
MPTF reserves the right, but not the obligation, to monitor, edit and/or remove any User Content deemed inconsistent with these Terms of Use, including, without limitation, the Code of Conduct. You acknowledge and agree that MPTF has the sole discretion to post or not post any User Content to the Web Site. In this regard, MPTF and its designees may, at its own discretion, monitor and prescreen User Content and MPTF and its designees reserve the right, but not the obligation, in their sole discretion to post, refuse to post, move, edit or delete any User Content without prior notice, in whole or in part, that is deemed to violate these Terms of Use or the Code of Conduct or for any other reason.
This means that any user content you submit to MPTF for posting at the web site may or may not be posted. You agree that MPTF shall not be liable to you for any posting or failure to post your user content to the website.
By submitting, transmitting, posting, uploading, modifying or otherwise providing User Content in connection with the Web Site, whether solicited or unsolicited, you are granting MPTF a royalty-free, fully paid, non-exclusive, irrevocable, perpetual, unrestricted, worldwide license to publish, transmit, perform, display, create derivative works from and otherwise use such User Content for any purpose, including, without limitation, advertising and promotional purposes, in any media, now or hereafter known. No credit, approval or compensation is due to you for any such use of User Content you may submit. MPTF also has the right, but not the obligation, to use your username (and real name, image, likeness or other identifying information, if you choose to provide such information in connection with User Content), city and state in connection with broadcast, print, online or other use or publication of your User Content. All User Content become the unrestricted licensed property of MPTF.
You represent and warrant that you own or otherwise control any and all rights in and to the User Content and that public posting and use of the User Content by MPTF will not infringe or violate the rights of any third party in any manner.
In your use of any User Content Feature, you agree, without limitation, not to upload, transmit, distribute or otherwise publish in any form any User Content that is:
libelous, defamatory, obscene, abusive, pornographic, threatening or an invasion of privacy;
an infringement of the intellectual property rights, including, but not limited to, copyrights and trademarks, of any person or entity;
illegal in any way or advocates illegal activity;
an advertisement or solicitation of funds, goods or services;
a message posted by a user impersonating another;
personal information such as messages which identify phone numbers, social security numbers, account numbers or addresses; or
or could be considered bulk unsolicited communications.
You acknowledge that MPTF is not responsible for any User Content posted in any User Content Feature or otherwise available at or through the Web Site. MPTF is merely providing access to such User Content Features and User Content as a service to you to be used in accordance with these Terms of Use. You may only use the User Content Features in a personal, noncommercial manner. You acknowledge and agree that you are solely responsible for any User Content you post, including, without limitation, the reliability, accuracy and truthfulness of your User Content. Likewise, with respect to any User Content posted by other users, you acknowledge and agree that such users are solely responsible for the User Content they post, including, without limitation, the reliability, accuracy and truthfulness of any such User Content. MPTF has no control over whether such User Content are of a nature that you might find offensive, distasteful or otherwise unacceptable and, accordingly, MPTF expressly disclaims any responsibility for User Content. Just as when you view content in any other setting, you should exercise appropriate discretion, good judgment and caution in using User Content in any User Content Feature and in taking any actions based upon such User Content. Accordingly, you will bear all risks associated with any User Content that you access or use.
Disclaimer/Limitation of Liability
The Web Site, in whole and in part, is provided on an "as is" and "as available" basis, without express or implied warranties of any kind, including, without limitation, warranties of title, implied warranties of merchantability or fitness for a particular purpose. Without limiting the generality of the foregoing, MPTF makes no warranty: (I) that the web site will function as intended or will be uninterrupted or error-free; (II) that defects or errors in the web site will be corrected; (III) that the web site will be free from viruses or other harmful components; (IV) as to the quality, accuracy, completeness and validity of any information or materials you receive in connection with the web site, including, without limitation, user content; (V) that your use of the web site will meet your requirements; or (VI) that data collected, stored or processed through the web site will be secure or error-free.
To the fullest extent permitted under applicable law, you expressly acknowledge and agree that you assume sole responsibility and risk for your use of the web site and the results and performance thereof (including, without limitation, your use of any user content or linked sites).
In no event and under no cause of action, including, without limitation, negligence, shall the MPTF parties be liable for any damages, claims or losses incurred (including, without limitation, direct, compensatory, incidental, indirect, special, consequential or exemplary damages), however caused and under any theory of liability, arising from or in connection with any of the following subject matter or circumstances, even if a MPTF party is advised of the possibility of such damages, claims or losses: (I) Your use of or inability to use the web site; (II) Any user content, whether provided by you or any third party; (III) Any linked site available through the web site; (IV) Any inaccuracy, incompleteness or misinformation contained in information provided through the web site. (V) Unauthorized access to, or alteration or loss of, your transmissions or data, or other information that is collected, stored or sent in connection with the web site; (VI) Errors, system down time, network or system outages, file corruption or service interruptions; (VII) Any modification, deletion or addition to your user content by MPTF or another the web site user; and (VIII) Any posting or failure to post user content you submit.
Notwithstanding anything to the contrary contained herein, MPTF's cumulative liability to you arising from any cause whatsoever, and regardless of the form of action, will at all times be limited to the amount paid, if any, by you for access to the web site. If no amounts were paid, your sole remedy under these terms of use shall be to discontinue any use of the web site.
Some jurisdictions do not allow the disclaimer, exclusion or limitation of certain warranties, liabilities and damages, so some of the above disclaimers, exclusions and limitations may not apply to you. In such jurisdictions, MPTF parties' liability will be limited to the fullest extent permitted by applicable law.
Linked Sites
MPTF has not reviewed all of the sites linked to this Web Site ("Linked Sites") and, whether or not affiliated with these sites, MPTF is not responsible for their content, your use of the content or any other matter involving such Linked Sites. The inclusion of any link to such sites does not imply endorsement by MPTF of the sites. The Linked Sites are for your convenience and you acknowledge and agree that you access them at your own risk.
Copyright Claims
MPTF respects the rights of all copyright holders and MPTF has adopted and implemented a policy that provides for notification and removal of content that allegedly infringes the rights of copyright holders. If you believe that your work has been copied at the Website in a way that constitutes copyright infringement, please provide MPTF's copyright agent the following information: (i) a physical or electronic signature of a person authorized to act on behalf of the owner of an exclusive right that is allegedly infringed; (ii) identification of the copyright work claimed to have been infringed; (iii) identification of the material that is claimed to be infringing or to be the subject of infringing activity and that is to be removed or access to which is to be disabled, and information reasonably sufficient to permit us to locate the material; (iv) information reasonably sufficient to permit us to contact the complaining party; (v) a statement that the complaining party has a good-faith belief that use of the material in the manner complained of is not authorized by the copyright owner, its agent or the law; and (vi) a statement that the information in the notification is accurate, and under penalty of perjury, that the complaining party is authorized to act on behalf of the owner of an exclusive right that is allegedly infringed.
MPTF's copyright agent for notice of claims regarding the Web Site can be reached by writing to Legal Affairs Department, 23388 Mulholland Drive, Woodland Hills, California 91364 or at Sharon.siefert@mptf.com.
Please note that under the same law any person who knowingly materially misrepresents that material or activity is infringing may be liable for damages, including costs and attorneys' fees.
Termination of Use
You may terminate your use of the Web Site at any time. MPTF may suspend, discontinue or terminate your access to or use of the Web Site at any time immediately and without prior notice or obligation to you (i) if you violate any of these Terms of Use as determined by MPTF in its sole discretion, or (ii) for any other reason in MPTF's sole discretion. MPTF may notify you of any such suspension, discontinuance or termination by posting a notice on the Web Site, on any webpage opened when using the Web Site, by email to an email address you provided at the Web Site, or otherwise. Upon your receipt of such notice, you will immediately discontinue use of the Web Site. Any provisions that by their nature should survive termination (such as your indemnification obligations and MPTF's limitations of liability) shall so survive any termination of your use of the Web Site. You agree that MPTF shall not be liable to you for any suspension, discontinuance, termination, change or modification of your use of or access to the Web Site.
Communications to MPTF
Unless otherwise expressly indicated, any communication or material you transmit to the Web Site by electronic mail or otherwise, including any personal data, questions or answers, comments or suggestions, is, and will be treated as, non-confidential and non-proprietary.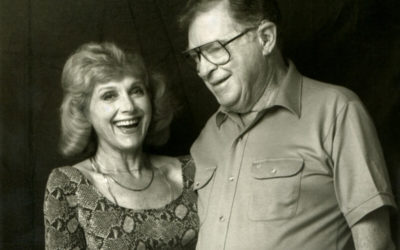 Lillian Michelson has helped guide some of the brightest filmmakers through her work as a hollywood archivist and librarian. She's a certifiable behind-the-scenes legend and calls MPTF home. Watch Lillian's story, performed by Alessandro Nivola (Face/Off, American...
read more