Stay Healthy and Stay Well
The Daily Call Sheet
MPTF, in partnership with the AARP Foundation, created Daily Call Sheet – a volunteer-driven telephone based, social connectivity program designed to keep industry members engaged. The Daily Call Sheet links volunteers with industry veterans, offering phone calls to individuals who may no longer be working and who wish to maintain their connection to others in their industry. The program's impact has been profound and exceeded expectations since its launch in 2017.
Focused on helping members of the entertainment community in times of need, the Daily Call Sheet is one of many ways that MPTF is committed to a culture of caring and 'taking care of its own.' This initiative was inspired by the The Silver Line program in the United Kingdom and the increasing global awareness around and recognition of, social isolation and loneliness as a critical health concern impacting our well-being.
MPTF is working closely with the AARP foundation to develop a set of tools and programs that will allow other organizations to tackle the challenges of loneliness and social isolation as well. This collaboration will shine a spotlight on these critical issues, provide a platform to replicate and scale this effort nationwide and create essential connections to help people live well, age well and thrive!
For more information contact Maureen Feldman at Maureen.Feldman@mptf.com or call 818-876-1190.
UCLA Health/MPTF Health Centers
UCLA Health operates six MPTF health care centers in Los Angeles. These health centers are still exclusive to entertainment industry members, and conveniently located near studios and other industry locations. Now, patients will also have the addition of the UCLA Health network as a robust, health care resource and care provider. No matter which health center you visit, you will receive top quality care from a dedicated team of highly skilled physicians, nurses, and other health care practitioners.
Click here to visit the UCLA Health website where you can find a list of health center locations and hours.
Have questions about MPTF and UCLA Health? Visit our FAQs page here.
The Samuel Goldwyn, Jr. Center for Behavioral Health
Call 818-876-4140
Our renowned retirement community and unique programs meet the evolving needs of today's generation of seniors. As part of our next phase of care delivery, we offer The Samuel Goldwyn, Jr. Center for Behavioral Health, a specialized center for adults over 55 years of age who have acute mental health needs. Learn more here.
Call 323-634-3888
MPTF Community Care Teams provide high quality multi-disciplinary medical and supportive care for entertainment industry members and their parents in designated rehab facilities.
Our Community Care Teams establish and follow through with individualized plans, visits, and ongoing assessments to assure a continuum of support and medical care.
MPTF's Community Care Teams consist of:
UCLA Faculty Practice Physicians
Social Workers
Chaplains
Volunteer Staff
Call 818-876-1739
MPTF provides support for individuals and families at any stage of illness and at any stage of life. Our Palliative Care Program is an interdisciplinary medical/social philosophy specializing in the relief of suffering and the achievement of best possible quality of life for patients with advanced illness, and their families
Palliative care is sometimes misunderstood or mistaken for solely end-of-life care, but care can actually help a patient at any stage of illness and life. It is designed to support any other treatment patients receive by helping people to live comfortably throughout illness.
The program comprises physicians, nurse practitioners, nurses, licensed clinical social workers, chaplains, dieticians, and activity coordinators. Palliative Care team members work closely with an individual's primary physician to deliver well-coordinated and communicated care. Guidance and counseling are also provided for those struggling with complex decision making about medical issues.
MPTF's award-winning Palliative Care program employs an interdisciplinary approach in collaboration with the UCLA Health system. Team members understand the unique needs of entertainment industry members.
Age Well
Call 818-876-4055
The Age Well Program is a centralized program that provides a pathway to health and wellness for older people. The program provides early assessment and intervention regarding age-related medical and emotional concerns, and makes informed recommendations to primary care physicians and family members.
In addition, the program offers comprehensive cognitive and functional assessments, care coordination for caregivers and adult children, personalized medical assessments, and ongoing support for seniors in their own homes.
Other services include educating seniors and their families about home modification, driver safety, enhancement of social outlets, and options to maximize personal independence.
The Age Well program employs an interdisciplinary approach, with clinical care from the award-winning UCLA Health system supplemented by MPTF team members who understand the unique needs of entertainment industry members.
Call 818-876-1777
The Saban Center for Health and Wellness is an oasis of good health. Located in Woodland Hills on MPTF's Wasserman Campus, the center features the Jodie Foster Aquatic Pavilion, a warm water pool for aquatic therapy and exercise, and a high-tech fitness gym, trainers to assist, educational seminars, and classes. The Saban Center is also a social mecca where working and retired industry members form connections, rekindled and new, that only those sharing common ground in this unique industry can create. More Info here.
Our Evidence-based classes and other Community Programs and walking groups are also a big part of staying well; research shows that if people are isolated, they are at greatest risk of earlier death and frequent hospitalizations.  Opportunities to stay engaged through various MPTF Community Programs and Lifelong Learning in the Burbank, Toluca Lake, Hollywood/LA, and West L.A. communities are a big part of staying healthy and engaged with fellow members of the industry.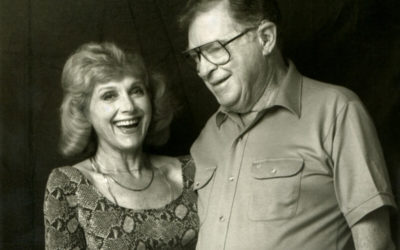 Lillian Michelson has helped guide some of the brightest filmmakers through her work as a hollywood archivist and librarian. She's a certifiable behind-the-scenes legend and calls MPTF home. Watch Lillian's story, performed by Alessandro Nivola (Face/Off, American...
read more