Corporate & Foundation Donors
MPTF's programs and services would not be possible without the annual support of the Corporations and Foundations who generously underwrite our organization.
Corporate & Foundation
Donor Honor Roll
Advanced Research Investment Solutions, LLC
Affiliated Property Craftspersons, IATSE Local 44
City National Bank, an RBC Company
Fleischer Studios – Susan and Mark Fleischer, Stanley Handman, Virginia Mahoney
Four Seasons Hotel Resort – Lana'i
Four Seasons Hotel Resort – Orlando
Gary and Susan Martin Foundation
Hollywood Foreign Press Association
IATSE Production Sound Technicians, Local 695
Linda Tallen & David Paul Kane Cancer Educational and
Marcum Entertainment Corp
Morrison Management Specialists
Motion Picture Set Painters & Sign Writers, IATSE Local 729
Principal Communications Group
Rosenthal Family Foundation
The Animation Guild, IATSE Local 839
The Hilaria and Alec Baldwin Foundation
The Richard F. Walsh/Alfred W. Di Tolla/Harold P. Spivak Fnd
White Horse Pictures & Nigel Sinclair
Blue Shield of California
Boyd Watterson Asset Management, LLC
Brandywine Global Investment Management, LLC
Bush Gottlieb, A Law Corporation
Cedars-Sinai Medical Center
Chivaroli & Associates Insurance Services, Inc.
Costume Designers Guild, IATSE Local 892
Creative Technology Group, Inc.
IATSE Local 871 Script Supervisors/Continuity, Coordinators, Accountants & Allied Production Specialists Guild
Lazard Asset Management LLC
Los Angeles Capital Management
Make-Up Artists & Hairstylists Guild, IATSE Local 706
Mitchell Silberberg & Knupp LLP
Motion Picture Costumers, IATSE Local 705
Motion Picture Mothers, Inc.
Munger Tolles & Olson LLP
Savitsky Satin Bacon & Bucci
Studio Utility Employees, Local 724
Teamsters Local 399 Studio Transportation Drivers
The Northern Trust Company
Union Labor Life Insurance Company, Inc.
BNY Mellon Asset Management
Gettleson, Witzer & O'Connor
IATSE District 2 and MPTAAC
Kaplan-Loring Foundation, Inc.
Meketa Investment Group, Inc.
Southern California District Council of Laborers
Theatrical & TV Stage Employees, IATSE Local 33
Tom May – David May II Foundation
Wohlner Kaplon Cutler Halford & Rosenfeld
BMO Global Asset Management
Carswell Greenfield & Kunstler
Costume Rentals Corporation
Crescent Capital Group LP
Fiduciary Trust Company International of California
First Eagle Investment Management
First Entertainment Credit Union (FECU)
Gordon Edelstein Krepack Grant Felton & Goldstein LLP
Grant Tani Barash & Altman LLC
Hoppers Office & Drafting Furniture
HUB International Insurance Services Inc.
Jack Schwartzman Family Foundation
Laborer's International Union of North America, Local 300
Lewis Greenwood Foundation
Liuna Pacific Southwest Education & Events Fund
Los Angeles Academy of Figurative Art
Samuel Goldwyn Foundation Children's Center
Set Designers & Model Makers, IATSE
The George Lucas Family Foundation
Unlimited Security Specialists, Inc.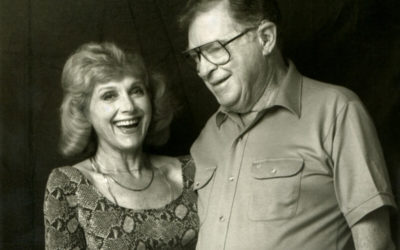 Lillian Michelson has helped guide some of the brightest filmmakers through her work as a hollywood archivist and librarian. She's a certifiable behind-the-scenes legend and calls MPTF home. Watch Lillian's story, performed by Alessandro Nivola (Face/Off, American...
read more