Corporate & Foundation Donors
MPTF's programs and services would not be possible without the annual support of the Corporations and Foundations who generously underwrite our organization.
Corporate & Foundation
Donor Honor Roll
3 Arts Entertainment, Inc.
Academy of Magical Arts, Inc
AFL – CIO Building Investment Trust
AJ Longo Insurance Brokers
Amalgamated Life Insurance
Assisted Home Recovery Inc.
Autry Museum of Western Heritage
Bernard Kotkin & Co. LLP CPA
BlasterMaster Productions
California Writers Club – San Fernando Valley
CenterSquare Investment Management
Dark Star Productions, Inc.
Dimensional Fund Advisors
Ellis-Siegel Enterprises, LP
Felker Toczek Suddleson Abramson
Flapper's Comedy Club & Restaurant
Highbridge Entertainment Inc.
Hoffman Sabban & Watenmaker
International Silks & Woolens
Japanese American National Museum
Jeffer Mangels Butler & Mitchell LLP
La Cienega Studio Cleaners, Inc.
Local 755 – Plasterers and Cement Masons
Loomis Sayles & Company, LP
Malbec Argentinean Cuisine
Market City Caffe Hospitality Group
Mastro's Steak House Beverly Hills
Milt & Edie's Drycleaners
Momentum Talent Management
MPTF (Motion Picture & Television Fund)
Museum of Neon Art (MONA)
Natural History Museum of Los Angeles County
Nausica Stergiou Center Theatre Group
Olive Garden Italian Kitchen
Pacific Investment Management Company
Pasadena Museum of History
Petersen Automotive Museum
Principal Global Investors
Santa Barbara Museum of Natural History
Schwartz Steinsapir Dohrmann & Sommers, LLP
Studio Teachers, Local 884
The Atchison-Phillips Community Property Trust
The Huntington Library, Art Collections & Botanical Gardens
The Ice House Comedy Club
The Walt Disney Company Foundation
Varnamo Kommun, Municipal Cultural Department
Voya Investment Management
Warbird Productions LLC (Open World)
Warner Constructors, Inc.
Washington Capital Management, Inc.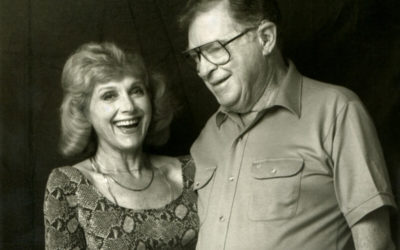 Lillian Michelson has helped guide some of the brightest filmmakers through her work as a hollywood archivist and librarian. She's a certifiable behind-the-scenes legend and calls MPTF home. Watch Lillian's story, performed by Alessandro Nivola (Face/Off, American...
read more