Our History
As the entertainment industry evolves, there is one thing that remains certain: many workers in our business don't always know where their next paycheck will come from. Recognizing this, cinema pioneers in 1921 created MPTF (then the Motion Picture Relief Fund) to act as a safety net of health and social services.
MPTF was created by Hollywood's earliest entertainment luminaries such as Charlie Chaplin, Mary Pickford, Douglas Fairbanks, and D.W. Griffith, who realized the need for reaching out to those in the entertainment industry who fell upon hard times. It began with a simple coin box in Hollywood where entertainment industry workers would deposit spare change for fellow colleagues.
In 1921, the Motion Picture Relief Fund (MPRF) was incorporated with Joseph M. Schenck as president, Mary Pickford as vice president, and the Reverend Neal Dodd (who portrayed ministers in more than 300 films) as administrator — each with a benevolent spirit intent on providing assistance to those in the motion picture industry who were in need.
The advent of talkies in the late 1920s brought many changes to the film industry. While talkies launched many new careers, hundreds of actors, directors and writers who had not foreseen the change to the industry or their livelihood, became unemployed. MPRF came to their aid.
As the need for MPRF services grew during the big studio era of the 1930s, Mary Pickford had an idea to help raise needed funds for services. In 1932, she spearheaded the Payroll Pledge Program, a payroll deduction plan for those earning more than $200 a week. Studio workers were asked to pledge one-half of one percent of their earnings to MPRF. In 1938, MPRF increased participation in the Payroll Pledge Program by including talent groups, unions and producer representatives.
Then-President Jean Hersholt was seeking an opportunity to supplement the income produced through Payroll Pledge. Jules Stein came up with the idea to have major movie stars appear on a new radio program, "The Screen Guild Show," whereby they would donate their normal salaries to MPRF. Members of the Directors and Writers Guilds also contributed their services to the program.
Sponsored by Gulf Oil, The Screen Guild Theatre made its premiere over 61 CBS stations in 1939. The first program starred such greats as Jack Benny, Judy Garland, and Joan Crawford. The Screen Guild Theatre quickly became one of the most popular programs on network radio, raising $5.3 million for MPRF during its 13-year run. Every major star participated at least once: Humphrey Bogart, Barbara Stanwyck, Gary Cooper, Bing Crosby, Natalie Wood, Bob Hope, Betty Grable, Clark Gable, Carole Lombard, Tyrone Power … the list goes on.
In 1940, Jean Hersholt located the property for the future Motion Picture & Television Country House and Hospital. They immediately sold seven acres to offset the costs for the first building of the Country House, designed by architect William Pereira. Mary Pickford and Jean Hersholt dug the first shovelfuls of earth. On September 27, 1942, three thousand members of the film community gathered in Woodland Hills for its dedication.
What started out more than 90 years ago as the Motion Picture Relief Fund has, today, flourished into MPTF, the Motion Picture & Television Fund, a comprehensive service organization that remains at the core of the entertainment industry.
MPTF belongs to everyone in the entertainment business and our successes are embodied in the spirit of stepping up and giving back — just as our founders envisioned. With the engagement and generosity of thousands of people from within the entertainment industry community, we serve more than 150,000 people each year with healthcare, services, and retirement living.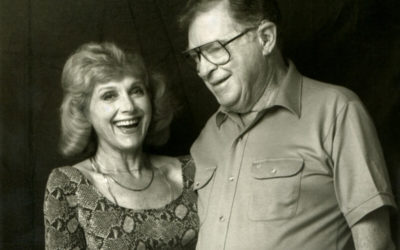 Lillian Michelson has helped guide some of the brightest filmmakers through her work as a hollywood archivist and librarian. She's a certifiable behind-the-scenes legend and calls MPTF home. Watch Lillian's story, performed by Alessandro Nivola (Face/Off, American...
read more