MPTF22 » Programming for MPTF's Residential Community
Creativity is ageless. That's why MPTF22, also known as Channel 22, provides MPTF residents with a unique opportunity to create original programming for the community at MPTF's Wasserman Campus. Shows are broadcast throughout the grounds, into cottages and rooms, as well as to our YouTube page for families of residents and for the public to enjoy.
We're mindful of sharing industry knowledge and job skills and, because of this, MPTF22 is truly intergenerational. Residents, professionals, and industry volunteers work side-by-side with local high school youth who are interested in a career in the entertainment industry. We also foster fulfilling relationships by developing programs and partnerships with entertainment industry professionals, organizations, and companies.
The result is a combination of amazing experiences and incredible programs that speak volumes about the extraordinary people who are a part of the MPTF community.
For more information about MPTF22, please call 818-876-6388. See even more on our YouTube page!
Get involved in MPTF22!
We're always looking for cinematographers, videographers, editors, graphic designers, scenic designers, production coordinators, hair/makeup artists, and administrative volunteers who can spend a few hours each week with us. There are opportunities for everyone at any experience level. Call us for more information.
MPTF22 is extremely thankful for the founding vision and support of Lucille and Mel Shavelson and the generosity of NBCUniversal.
MEDIA CENTER HIGHLIGHT REEL
The Media Center provides opportunities for residents and industry volunteers to develop and create programming that serves the MPTF residential community through education, information, and entertainment programs. A key component to this is integrating junior volunteers into the process. The collaboration between generations preserves the tradition of shared knowledge inherent to the entertainment industry while educating all parties to current entertainment industry technologies.
Retired animator John Sparey is an MPTF resident who noticed that ducks visit campus each year. This is the 'Duckumentary' that he produced and animated.
MPTF resident Howard Flynn shoots and narrates a weekly current events program. He can be seen around campus interviewing people and getting stories for Channel 22.
Poetry, as a pure original expression of appreciation, exacerbation, or exhilaration, has a platform on Channel 22. MPTF resident Lin Dorfman shares her own poetry.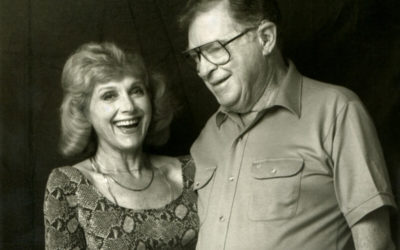 Lillian Michelson has helped guide some of the brightest filmmakers through her work as a hollywood archivist and librarian. She's a certifiable behind-the-scenes legend and calls MPTF home. Watch Lillian's story, performed by Alessandro Nivola (Face/Off, American...
read more