I know I saw or heard something about MPTF and UCLA Health several months ago. What is this announcement?
This is a follow-­up to MPTF's announcement in October, that it had signed an agreement with UCLA Health to bring MPTF's five outpatient health centers and ancillaries such as lab, radiology, physical therapy and surgery under the UCLA Health umbrella. The MPTF Health Centers would become co-­branded with UCLA Health, and the staff and doctors would become UCLA employees. This new announcement confirms the date of June 1st as the official transition date.
How will this affect me and other entertainment industry members using MPTF for their health care?
It should have very little impact short term, and long term it should be very positive for the healthcare delivery to entertainment industry members. After the transition to UCLA Health, our industry members will continue to have access to the same physicians at the same physical locations. They will also have access to the same specialists in the network.
The health centers will remain EXCLUSIVE to the entertainment community. And in addition to the personal, high-quality care that our entertainment community is accustomed to, it will now have unprecedented access to the premier specialty care and innovation that UCLA is known for.
Will the Health Centers still take my insurance?
Yes, the Health Centers will continue to accept all insurance plans they accept today, including Medicare. 
Will this cost me more money? Will I have a larger or different co-pay?
It is unlikely, but you must check with your health plan to be sure. 
Can I still get my annual physical at UCLA-MPTF health centers?
You can always get your annual exam at the health center. If coverage of this exam is part of your usual benefit it will likely remain the same, but check with your health plan to be sure. 
Does this mean that I can now go to ANY UCLA Health Office, even if it is not operated for MPTF?
No. The five health centers and Health Wheels that are co-branded UCLA-MPTF are operated exclusively for industry members and work with the entertainment industry health plans to keep your co-pays and other fees low. Just as before, they are the only health centers you may use in accordance with your health plans.
So, although another UCLA health office may accept your insurance, you would not get the benefit there of the specific advantages provided to you (e.g., reduced co-pay, physicals) by your union- or guild-sponsored health plan.
Do I have to only use the UCLA hospital in Westwood?
No. There will be no change in access to local hospitals. As before, the primary care physicians will refer to the specialists and sub-specialists in The Industry Health Network and they in turn will admit to the best hospital for your care and personal needs. 
Do I have to use only UCLA specialists?
No. UCLA Health will continue with The Industry Health Network, which includes over 500 physician specialists and sub-specialists from around the Los Angeles basin. Our primary care physicians, all of whom have agreed to continue with UCLA Health, will continue to refer you to the specialist or sub-specialist that they believe is right for you and will do the best job caring for whatever medical issue you may have.
They may be associated with UCLA, but in many cases they will not. As UCLA expands its own reach into various local geographies and brings local specialists into their Medical Group, those physicians will become part of The Industry Health Network as well.
What about the physical therapy service?
In Toluca Lake, MPTF Physical Therapy has recently expanded to a new location at 2211 Magnolia, Suite 160, just a short distance from the Toluca Lake Health Center, where it can provide an even higher quality service. Referrals will continue as they are today and appointments can be scheduled through the Call Center.
Are the MPTF Health Centers still exclusive to the entertainment industry?
Who do I call if I have a question about authorizations, referrals or items on my bill?
Questions about authorizations for procedures, etc. should still be directed to your health plan, as they are today. Questions about referrals or billing should be directed to the Health Center, as they are today.
Will the name on the health centers change when UCLA starts running them?
No, the names will not change. You will see some UCLA-­MPTF co-­branding in the health centers, but the names (Bob Hope, Jack Skirball, etc.) will remain the same.
Will the location of the Health Centers change?
No, with one exception: The Jack Skirball Health Center on the MPTF campus in Woodland Hills, which is currently split on two floors, will relocate temporarily to a modular building on the south end of the campus. The Garden level floor will be completely remodeled and the temporary relocation will accommodate the work to be done there. When it is completed (we estimate 18-24 months), it will house a brand new health center, GI procedure rooms, digital radiology, and pain management procedure rooms.
Will I still be able to see my doctor after UCLA starts running the health centers?
Yes. All MPTF doctors are joining UCLA Health and you will have the same access to them that you have today.
Will the phone numbers change?
No, the phone numbers will not change. You can still call your health center's phone number for appointments and to speak with your doctor. And the staffing at the Call Center will remain the same for the most part, so many of the team you've spoken to in the past will be there for you.
I heard that UCLA has its own laboratory. Is that true and what does it mean for me?
Yes, it is true. UCLA has a laboratory in Van Nuys. All blood work from the Health Centers will go there by courier (just as they previously came to the Wasserman Campus for all Health Centers other than the Jack Skirball Health Center). Courier pick-ups will be frequent and turnaround times will not be affected.
What will happen to Surgery and the G.I. lab?
Both of these service lines will shut down on June 1st to accommodate the remodel of the Garden level floor on the Wasserman Campus. For an interim period, GI procedures will be performed in community facilities using the same physicians as today. That service will return to the Jack Skirball Health Center when the remodeling is completed.
Ambulatory surgery will also be performed in community facilities by the same Industry Health Network doctors. The Special Surgical Center of Encino, at 16501 Ventura Blvd (at the corner of Hayvenhurst) will be the primary location for GI and Ambulatory Surgery and Pain Management.
Why is MPTF joining with UCLA Health?
Like many other relatively small primary care practices, we were concerned by the demands and requirements of the changing healthcare environment in the United States. These requirements are many, they are complex, and they are urgent. Our concern that these demands would overwhelm the charitable resources of the organization caused us to realize that sometimes "Taking Care of Our Own" is best served by joining up and leveraging the capabilities of a renowned partner.
We believe that aligning with UCLA Health, a renowned medical and academic institution, is the best thing we can do today to ensure long-term continuity for our patients and physicians. It is our way of future-proofing the amazing healthcare we already provide as well as the physician-patient relationship that we know is so important to our entertainment community. It is only because of the highly rated care delivered by our primary care physicians and clinical staff today that we were able to attract a world-class organization like UCLA Health.
Why UCLA?
We set out looking for a strong cultural and strategic fit for MPTF. After a series of meetings with UCLA and other potential partners, the MPTF leadership team and Board felt that in UCLA we have found a partner who shares in the MPTF philosophy of care, with a high priority on patient engagement and keeping industry members and their families healthy and available to work.
Joining with an organization that U.S. News & World Report calls #1 in the West was an exciting opportunity, and on their side, UCLA showed great enthusiasm for this merger and great respect for our physicians and clinical staff and preserving the patient-physician relationship. The MPTF-UCLA Health relationship broadens an existing collaboration between us: a geriatric psychiatry unit on MPTF's Wasserman Campus in Woodland Hills, which we have been working on together for several months, will open by mid-summer.
We feel incredibly fortunate to align with the UCLA Health System and think our entertainment industry members will enjoy many additional benefits from the relationship.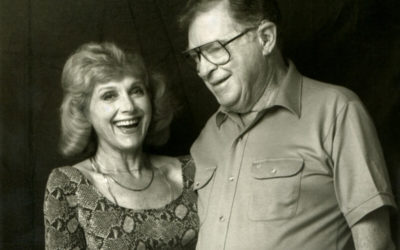 Lillian Michelson has helped guide some of the brightest filmmakers through her work as a hollywood archivist and librarian. She's a certifiable behind-the-scenes legend and calls MPTF home. Watch Lillian's story, performed by Alessandro Nivola (Face/Off, American...
read more