MPTF volunteers work on campus, at events, and at off-site locations as needed lending a helping hand to members of our community.
Volunteering
As someone who works in the entertainment industry, you understand the creative energy and camaraderie developed among colleagues on a production, a show or a project. Becoming a volunteer at MPTF offers you that feeling and much more. Through a variety of opportunities, as an individual or as part of a group, you can provide entertainment, companionship, and assistance to fellow industry members, young and old, and become part of a community that's passionate about coming together to give back. Current volunteers, log in to MyVolunteerPage.com.
Become a Volunteer
Thank you for your interest in becoming an MPTF Volunteer! Personal affiliation with or connection to the entertainment community is preferred. Once you fill out an application, you will be invited to an orientation.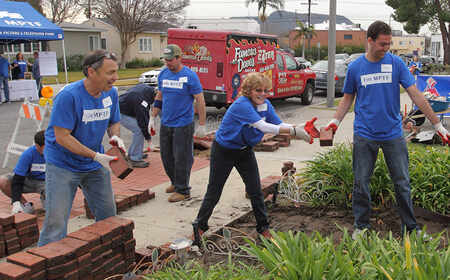 MPTF relies on the industry and friends to help support our entertainment family. See how you can help.
Faces of MPTF
"Everyone here who's been in the industry has an amazing story, and before you know it, they're helping you as much as you're helping them."
Mark Lanza
Volunteer, Local 700

Support MPTF
Help us continue taking care of our own through essential programs and services for our entertainment industry community.