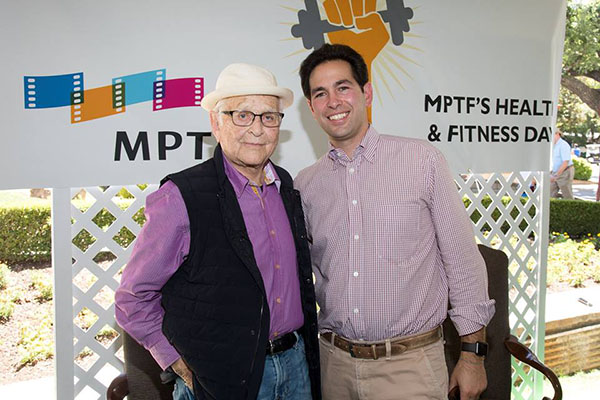 WOODLAND HILLS, CA, June 16, 2017— More than 500 active and retired entertainment industry professionals celebrated health and fitness with MPTF (Motion Picture & Television Fund) on June 15 as part of the organization's longtime commitment to taking care of its own.  MPTF conducted the 3rd Annual Health & Fitness Day at its Wasserman Campus in Woodland Hills.  The day featured cooking demonstrations, educational workshops, entertainment, fitness activities, lunch and a Q & A with bestselling author, Emmy® Award-winning producer, and writer, Norman Lear.
"Enjoying meaningful social connections and having a strong sense of purpose are essential elements of good health and well-being," said Scott Kaiser, M.D., Chief Innovation Officer and practicing geriatrician at MPTF. "This event is all about connecting members of the entertainment industry, creating a community for people to live well, age well, engage with each other, and, above all, to do so with dignity and purpose."
During the lunchtime conversation, Lear spoke with Dr. Kaiser about living well and inspired the crowd with his thoughts on creativity and productivity at any age.  At one point during the discussion, he called his longtime friend, Emmy® Award-winning actor, producer, writer and comedy legend, Carl Reiner, who chimed in via speaker phone in support of vitality among industry members going strong after age 90. Reiner hosts the newly released HBO documentary, If You're Not in the Obit, Eat Breakfast, featuring some of the biggest legends in the entertainment industry, including Lear, who reveal that the later years in life can be the most rewarding.  Lear continues to executive produce new television series, such as Netflix's re-imagined One Day at a Time, and Reiner has published several books since turning 90; his latest book, Too Busy to Die, was released earlier this year.
Bob Beitcher, MPTF's Chief Executive Officer remarked, "MPTF belongs to everyone in the entertainment business.  Celebrating health and fitness is one of the many ways that we are committed to a culture of caring and connecting people in the industry."
The morning activities at MPTF included cooking demonstrations, dance classes, neurodrumming workshops for brain fitness and stress management, swimming exercises, tai chi and yoga classes, zumba and more. Afterwards, a group of industry professionals and MPTF supporters joined residents in a parade across the campus to enjoy an outdoor luncheon that featured presentations about MPTF programs and a conversation and photo opportunities with Lear.
MPTF's Annual Health & Fitness Day is one of the many ways that the organization is committed to taking care of its own.  Other activities and events include MPTF's Deal With It: A Women's Conference, an annual summit to empower women in entertainment, and the Daily Call Sheet, a newly launched volunteer-driven telephone outreach program to combat social isolation and loneliness among entertainment industry members and their families.
About MPTF
MPTF (Motion Picture & Television Fund) supports our entertainment community in living and aging well, with dignity and purpose, and in helping each other in times of need. For more information, visit www.MPTF.com or follow @MPTF Facebook/Twitter.