Blees remembered for his talents, compassion, and dedication to the industry.
WOODLAND HILLS, CA, February 5, 2015—MPTF announced today the passing of longtime board member Robert Blees on January 31 at the home of his daughter, Cynthia Klustner, in Menlo Park, California, and in the presence of Cynthia and Mr. Blees' son Jonathan. He was 96 years old.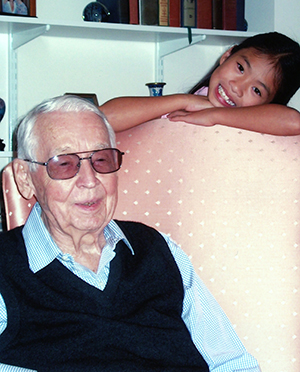 Robert Blees was a prolific film and television writer/producer whose career spanned over four decades and included screenplays for Magnificent Obsession (1954) starring Rock Hudson and Jayne Wyman and Autumn Leaves starring Joan Crawford and Cliff Robertson (1954). His television credits stretch from Damon Runyon Theater, Alfred Hitchcock Presents, Peter Gunn, Zane Grey Theater, and Kraft Suspense Theater to the 1985 TV movie Gidget's Summer Reunion. He is credited as a producer of Combat, Bonanza and Cannon among others.
"While my tenure on MPTF's board overlapped Bob Blees' for only a few years, it didn't take long to appreciate his grace and intellect as well as his compassion for the people of our industry," says MPTF CEO Bob Beitcher. "Bob served the entertainment industry through his tireless dedication as a board member which spanned 30 years."
Blees served countless hours on all of MPTF's main committees and, after retiring from the board, continued to serve on the MPTF Case Committee until he relocated to Northern California three years ago to be with his daughter. In addition to MPTF, Blees was a former board member of Writers Guild of America, West and Producers Guild of America.
Blees was Phi Beta Kappa as a junior at Dartmouth College and worked for Time and Life magazines before turning his talents to screenwriting and producing. He also served our country as a navigator in the US Army Air Corps during World War II.
Beitcher sums up Bob Blees by referring to a Confucius quote that appeared on Blees' stationary, "The gentleman by his culture collects friends about him, and through these friends promotes goodness."  Based on the thousands of lives he touched through his many contributions to his industry, Blees will be remembered for his storytelling and the goodness he promoted.  He was a true gentleman.
Blees is survived by his son Jonathan, daughter Cynthia, and three grandchildren. He was predeceased by his daughter, Kristie, in 1995, and his wife of 56 years, Dorothy, who passed away in 1997 at MPTF's retirement community in Woodland Hills, California.
Donations in Bob's memory may be made to MPTF or Lucile Packard Children's Hospital.
For 90 years, MPTF (Motion Picture & Television Fund) has served as a beacon of hope for entertainment industry members in their time of need. As a charitable organization, MPTF provides financial assistance and services essential to the wellbeing of the community and is a leader in the development and implementation of services and programs for seniors and those who care for them. MPTF is supported by the generosity of corporate donors and fellow entertainment industry members who contribute their time and money because they believe in the critical importance of Hollywood helping Hollywood. Follow MPTF on Twitter.
Contact: Linda O'Hanlon, ohanlon@straightlinecomm.com, +1 (818) 386-1916