WOODLAND HILLS, CA, May 20, 2016— Film and television actor Alan Young died peacefully on Thursday, May 19, 2016 of natural causes at the Motion Picture & Television Home. Young has been a resident of the MPTF retirement community for over four years.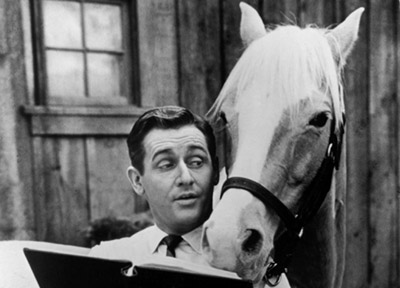 Best known to TV viewers as perpetually doubted leading man and talking horse owner Wilbur Post on the popular comedy series Mister Ed from 1961 to 1966, Young was born in North Shields, Tyne-and-Wear, England in 1919 and grew up in Scotland and Canada. After serving in the Royal Canadian Navy, he embarked on a career in local radio comedy at the age of 17 and made his debut on American radio with The Alan Young Show in 1944. A television series of the same name bowed in 1950 and earned him a Primetime Emmy Award for Outstanding Lead Actor.
Young's extensive film career includes two much-loved productions by fantasy and science fiction legend George Pal, tom thumb (1958) and The Time Machine (1960); the latter allowed him to use his Scots accent and regularly appears on lists of the greatest sci-fi films of all time. His other credits include Gentlemen Marry Brunettes (1955) opposite Jane Russell, an adaptation of George Bernard Shaw's Androcles and the Lion (1952), and Beverly Hills Cop III (1994) with Eddie Murphy. He won Best Actor awards at the San Diego Film Festival and the Monaco International Film Festival for his memorable turn in the quirky 2004 independent film, Em & Me.
Young was a regular guest on many television shows over the years with appearances on Murder, She Wrote, The Love Boat, St. Elsewhere, ER, Coach, Party of Five, and Sabrina, the Teenage Witch. He also parlayed his talent for radio into a long career as a voice artist, most memorably voicing Scrooge McDuck for numerous Disney productions including the DuckTales series. He also provided the voices for multiple characters on the 1980s series The Smurfs and played a kidnapped mouse inventor in Disney's 1986 animated feature, The Great Mouse Detective.
Young passed away at the MPTF's Villa on Vitas Hospice with his children by his side.
Contributions in the name of Alan Young may be made to the Motion Picture & Television Fund, Woodland Hills, CA at https://archive.mptf.com/tributegift and to Y.E.S. The Arc, Cottonwood, AZ at http://www.yesthearc.org, a residential program for persons with special needs.